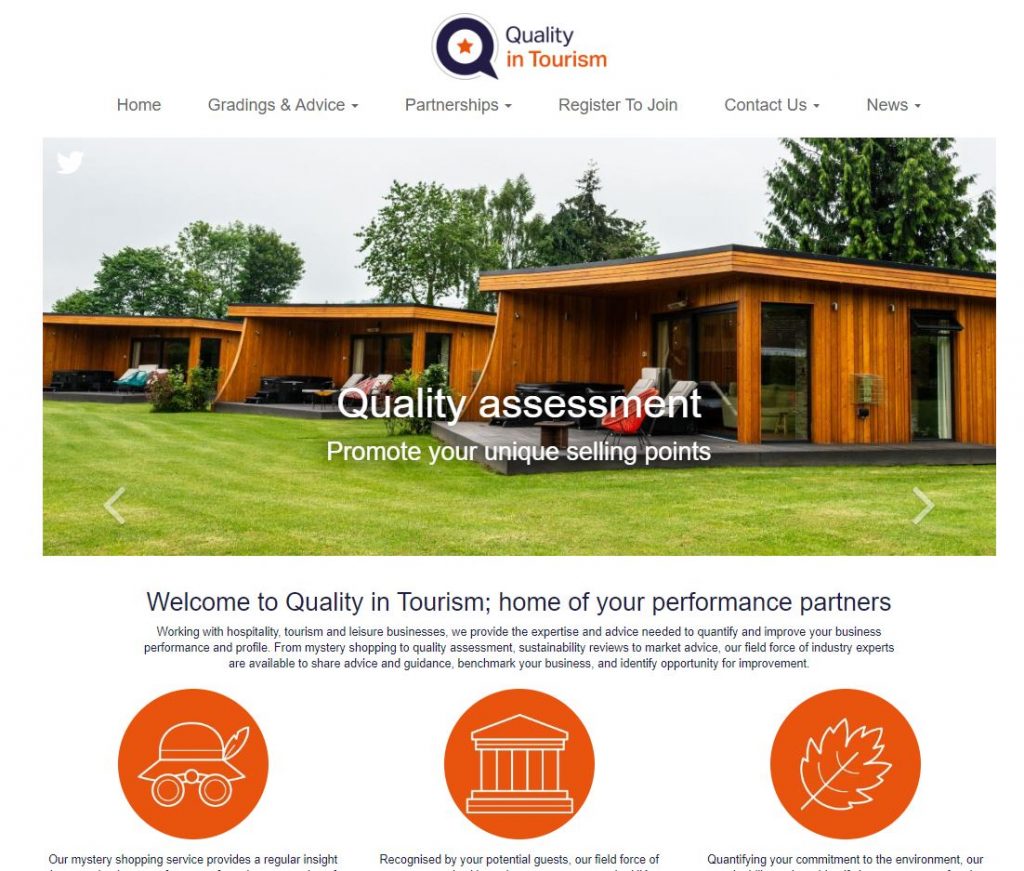 In today's hospitality and tourism industry, the pressure to meet and surpass customer expectations are higher than ever, so what sets apart a regular experience and a great experience? Regular assessment of quality is a key factor in the success of any accommodation provider, regardless of the size or type of operation.
Having worked with the industry for more than fifteen years, we understand the issues, challenges and opportunities that accommodation providers face. Quality in Tourism (QT) operates a revitalised assessment standard focused on customer satisfaction rather than prescriptive criteria. Our assessors review the customer experience, supporting operators on their continuous improvement journey whilst providing an accreditation that gives customer confidence.
We now have a rigorous bench-marking process which provides assurance where it needs to, without limits that it doesn't. This means operators are free to make commercial decisions without penalty, and we have many who have changed level under the new scheme and seen benefit for it.
Instead of focussing on the legacy of old criteria, our assessors assure quality by objective factors such as safety and compliance, and hospitality and welcome which make the physical space less of a consideration and it becomes much easier to assess and evaluate.
Adding and recognising quality without taking away any of the character and style of the property and services is at the centre of our assessment checks and we aim to provide a modern and robust quality assessment scheme that delivers both guest confidence and business owner support.
Being assessed by Quality in Tourism includes:
Annual overnight assessment: Our assessors will visit you annually for an overnight stay. Each of our assessors have a range of experience in hospitality, tourism and leisure industries and visit up to 500 properties per year.
Business report & additional support: Following your assessment, you will be provided with a detailed report and our team will be on hand to support you by offering business advice which is practical and achievable to implement.
Official Star rating & signage: You will be able to benefit from our recognisable official star rating and signage including certificates and door signs to help showcase your grading to consumers.
Digital pack: You will be able to take advantage of unlimited use of logos for use on your website, collateral and social media.
Help, support & guidance: Our approach is to work with you in partnership; the goal being to help to maximise the potential of your business and drive a program of continuous improvement.
Eligibility for awards: You will be eligible for additional accolades and awards.
Formally trained assessors and team: We are independent, holding ISO 9001 certification.
Plus much more…
"Visit Cornwall fully supports these accreditation schemes as we have noticed growing concerns from customers given the ever growing promotional platforms and a lessening in confidence with regard to review sites.  Increasing numbers of customers are seeking assurance from external credible sources to ensure they will not be disappointed"
Malcolm Bell, Chief Executive & Marketing Director, Visit Cornwall
Other Quality in Tourism Services:
Safe, Clean & Legal: Entry level accreditation; Safe, Clean & Legal, to give your guests confidence, with prices starting from just £100 + VAT
Modernised Star Ratings: Upgrade to modernised quality star ratings, without the prescriptive standards, measuring your quality, services and hospitality, with prices starting from just £125 + VAT
Great4 Accolades: Descriptive accolades to let your future guests know what you are Great4
UNIQUE Awards: Gold & Silver awards are available for outstanding quality and hospitality and our UNIQUE accommodation accolade will be awarded for exceptional individuality
Training and Consultancy Services: Our professional training and consultancy services are available to support and develop all elements of hospitality businesses, from revenue management to marketing.