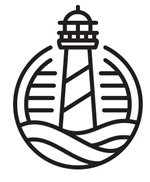 Welcome to the third Yes Consulting newsletter. The Lighthouse is for hosts, managers, agencies, and operators in the short term rental sector.
---
---
In the last few months, we have seen lots of reports and hypothesis about the industry at large, but the helicopter view is:
That urban business is hurting still and will continue for months (let's hope it's not 36 months as predicted by Laurie Garrett on Skift Global Forum). Lots of chat around 30 day plus stays and digital nomads etc. and many many links from Booking and Airbnb evidencing this.
StayCation rentals saw a surge as anticipated and are seeing modestly extended seasons. Companies are now focussing on this sector and aligning SEO and targeted marketing as COVID continues to rip the heart out of the travel industry in many quarters. In others, it's Christmas every day, unless you ask the locals (swear warning)
The eco-system is changing, it's not just urban, it's even in vacation rentals. As an example, the catered chalet business in the French Alps is headed for a bad time this season as international travel between the UK and France is on a COVID knife-edge.  The quality chalet business (OVO Network) has published a press release which highlights this but also opens up opportunities. When one door closes…….
The two major concerns in play right now:-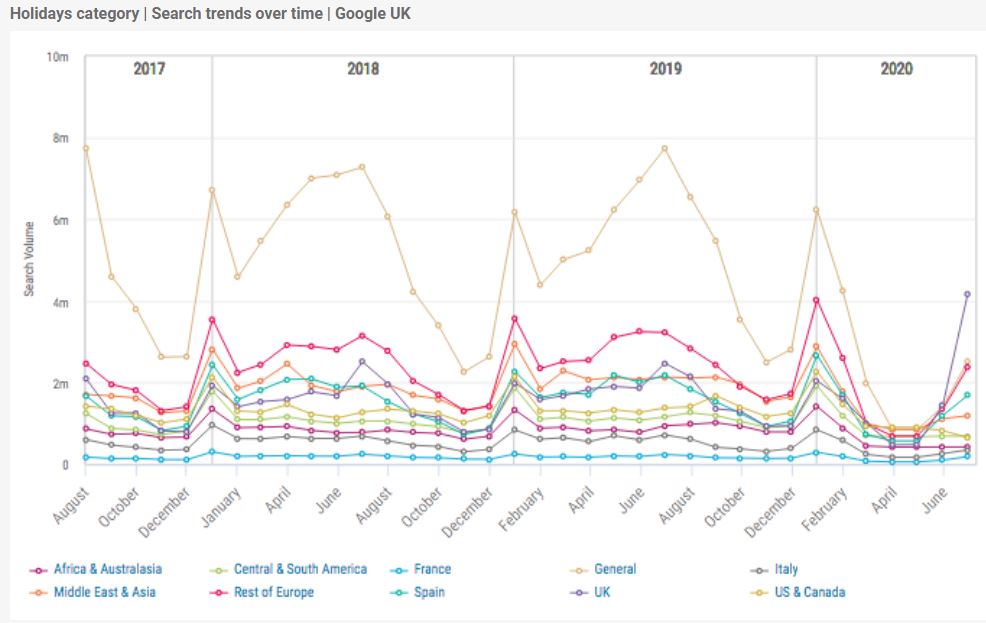 When furlough stops and the Govt's of the world stop printing money, we expect to see more unemployment and more company insolvencies? A lot of great rental staff on the market for those now planning for the future.
With so many bookings now re-booked for 2021 or credit notes given, what is the future for next years season? Companies need paying guests and that means availability, but much of this has now gone! The acquisition trail for new inventory is the hottest spot right now.
BIG BUSINESS:
---
BOOKING vs AIRBNB? Who is better positioned to benefit post-COVID
As this is the "big business" section, of the Lighthouse Newsletter we have focussed on two of the warring behemoths in short term rentals, Booking and Airbnb.  2021 is likely to be a "head to head". Where is the smart money headed and how will this affect the supply chain?
In last months newsletter, we published a share resilience graph for Booking and Expedia, still, as Airbnb relies on its press department for release of information, it's hard to compare anything as a threesome.  What we do know about Airbnb is this continual creep to a Booking.com model and removal of the guest service fee is the clear "about- turn" to a guest-centric business model, not host-centric as recently promised.
The Booking share price is still fairly resilient despite a beating due to increasing COVID cases and awareness that this is not a short term problem. The longer it goes on, the more significant the problem is as companies falter, change direction, and business travel pivots to bedroom and garden shed digital travel.
As a manager or owner, we have to guess outcomes plus where to place your bet if using an OTA at all. Ignoring VRBO who has restructured itself admirably, the big names are Booking.com (in Europe) and Airbnb (globally but overly so in the USA).
AIRBNB
Airbnb is making noises (and my word do they kick out some press bait, so we have limited their links this week) about an IPO, but pre-disclosure of real data is guesswork to a great degree. Sure, 1m room nights booked in one day sounds impressive.  It's not so much in reality; it's probably 300K bookings from 7m properties. 1 in 21 properties received a booking that day or 5% and many of these were no doubt cancelled. So let not get hung up on small numbers.
Although Airbnb made a fatal flaw on brand loyalty with carte blanche refunds, they gained significant guest loyalty and all because they controlled the money flow. Booking generally doesn't control the flow and the decision, although under advisement to refund was left to the supply chain and their legal and moral obligations according to terms and conditions and insurance cover.
Airbnb is a brand, a powerful brand, but what does it stand for? These are some of the brand assessments we read:
Airbnb is recognized as a cheaper alternative to hotels.
Airbnb isn't just about saving money. It's also about the experience.
Airbnb is different.
Live like a local throw away phrase (now thrown away)
If you want an in-depth scientific report on "Why Tourists choose Airbnb" then the research is there for all to see but for me, the summary lines are a giveaway.
This study sheds some important light on these questions by showing the strongest motivations tend to involve cost and other practical considerations, whereas the experiential motivations are mostly  secondary. This finding raises questions regarding Airbnb's marketing and regarding the common belief among hoteliers that Airbnb is not competing with hotels because it appeals to a separate market. This latter notion is further contradicted by the finding that the majority of respondents had used Airbnb as a hotel substitute.
This 230-page study (from 2016) has shown that adopting experiences as a rev stream may not have been the brightest idea, not to mention the technical challenges of attempting this. It also highlights the price as the main driver. Then there's the party aspects and pop up everything when there is no front desk to monitor the activities.
AIR-HOOVER
No, it's not a new startup! We have all heard the Hoover analogy, although we are more likely to buy Dyson or another brand these days, the word Hoover is now a generic name for a vacuum cleaner. Similarly, Airbnb has become a household name for renting a property for a short term let.  "I booked an Airbnb" has become one of the most loathed phrases in the professional supply quarter. It's here to stay and whether this was a genius PR team or only luck, the brand development has been left to chance and is now recognised merely as a short term rental that can be booked from many companies and has many different public flavours.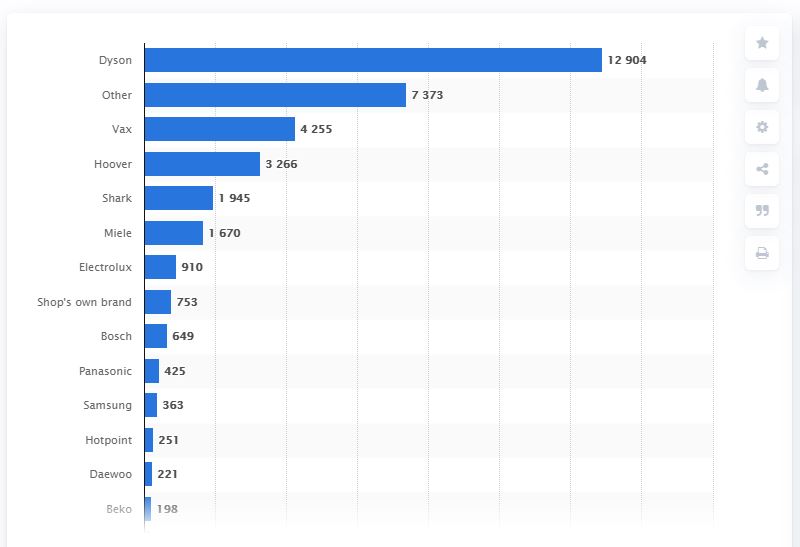 The problem has been lack of quality control, standardisation, a misty review system of back-scratching. With massive PR comes huge headaches and depending on where you live and the housing pressures and environments Airbnb can mean a lot of things. It has no defining heritage, alignments or governance. Compare this to the Marriott or Premier Inn or Best Western and the many small hotel chains with whom they initially competed. Airbnb is a lottery to a certain extent. Its growth, its lack of controls has meant that others may begin to sweep them under the carpet.
Airbnb's brand allows them the privilege of lower spend on Google and for now, not playing in Google Travel's sandpit. We feel this is short term thinking, however, as smarter and increasingly nimble business snipe at their heels and verticals monetise traffic. Check out last week's article on this subject too: Google Friend or Foe?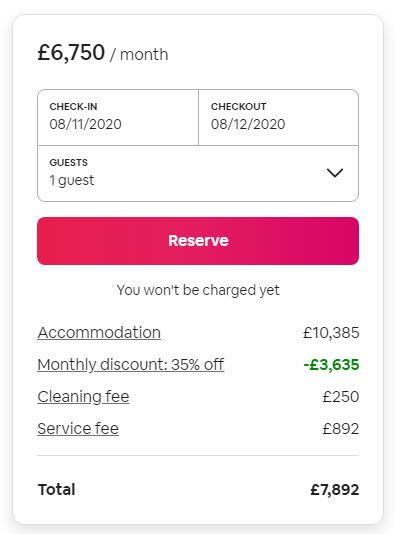 Airbnb needs inventory too as urban areas are now destitute and traditional VR locations where managers live are not as compliant as single hosts. Growth will be challenging and as many urban businesses falter or switch models and hotels push hard on price, the industry looks a whole lot different.
Airbnb has undoubtedly suffered technical challenges and is hanging its shirt on more extended stays, which has been a serviced apartment domain dominated by corporate clients for years. Many of the bookings are transacted offline in e-comm terms. No doubt the availability of cheap city accommodation has helped, but the fees are too high for extended stays. On this example a considerable discount on a lovely London apartment is available, but the Service Fee is £892! This huge fee is available for every guest to question. It has to go to compete with Booking.
AIRBNB PROS:-
The brand allows Airbnb cheaper marketing opportunities
Has guest loyalty for repayment decisions
Is pushing 30+ day stays as a solution to the problem
Owns LuxuryRetreats in the VR space (very quiet on this play though)
Has $Billions
AIRBNB CONS:-
70% urban (quoted by the various press).
Supply chain angst.
Guest Service Fee displayed will be more of a problem in a recession.
Has had technical difficulties on data distribution and user accounts.
Is pushing 30+ day stays as a solution to the problem.
Has legacy products (experiences, hotels, Airbnb Plus etc.)
More than 25% of their workforce has been removed.
No end of local authority cases is being brought to bear on housing issues and fake Airbnb accounts etc.
The $Billions come with a heavy interest rate
If anybody wants a great recent read on Airbnb and a deeper insight than most reporters provide then this New York Times articles is worth a read. To say they face some major forward momentum challenges may be an understatement.
BOOKING.COM
Has been around a lot longer than Airbnb and was founded in the hotel sector and at the end of the '90s started to gain momentum before being acquired for $133m by Priceline Group on 2005, whereas Airbnb started out in 2008.
Booking has never made any bones of the fact that supply pays the fees. Guests are generally not aware of the price complexity. They are not aware of the costs either absorbed by the manager or how much may be added to the price they paid. With price parity, a thing of the past, (despite Airbnb checking comparatives between them and Booking), the objective by both parties is to develop a mobile rebooking brand, where the guest has absolute certainty of the booking in the most frictionless way and the best experience in-app.
This contest essentially revolves around the capacity to attract and convert and which company will do this better and support guests online and offline.  Four factors will determine the outcome of this contest:
Which company has the best tech and team? Airbnb we have witnessed has issues and has spread its resources across many business subsets, many now either put on the back burner or terminated. Booking.com is a booking machine and has focused for years on conversions and has accelerated its position into alternative accommodation. Booking.com are still recruiting data scientists and techies but removing admin, marketing, middle management etc. That probably gives an idea of the direction Booking is taking.
Support: What we have witnessed over recent years is that Airbnb support is lacking. They are removing hosting accounts at will without explanation and staff being unable to explain policies or issues. As a guest on Booking.com with problems, they have it nailed, and the supply chain has to bend.
Reviews. There is a scepticism about reviews with a wealth of evidence on the 

many fakes

. On the company review scale, they both fair pretty severely, but we all know people review companies when they are upset, not happy!

Price and this is where having a data team and A/B testing comes into its own. The quote above from the research paper illustrates the real reasons Airbnb was so successful. Cheaper square footage which means less pp/p-night. Add in the unseen by a front desk environment, cheap flights and the powerful PR messaging then it was an excellent time to build an accommodation model in the "sharing" world. Hotels pretended it didn't have any effect, but as we now know, it did and has and will continue to have a powerful influence. Booking is recognised as a hotel booking force, so less of a focus on removing them from the eco-system.
Both companies, Booking axed almost 25% (4,000 of 17,500) of their staff in the summer months. Airbnb made a similar percentage of cuts. Three points of note here and extracts from this link when we have to reimagine Airbnb as a public company. The article gives a flavour of the journey its golden ambitions. Does it sound like a public company in the offing?
QUOTE: "Instead, Airbnb stood for earnest idealism. Mr Chesky, 38, a stocky designer from upstate New York, spoke frequently of trustworthiness, authenticity and a desire to build a business that valued principles and people over the short-termism of Wall Street. Mr Gebbia delivered a TED Talk on designing for trust. And Airbnb's former chief ethics officer, Rob Chesnut, wrote a book called "Intentional Integrity."
QUOTE: "Airbnb was built not on a genius technological innovation or a meticulous business school PowerPoint, but on the idea that people might trust one another enough to stay in strangers' houses. Basically, the goodness of humanity."
QUOTE: "His philosophy crystallized in 2018 when he presented a plan for something called "stakeholder" capitalism. In contrast to Wall Street's focus on quarterly financial reports and daily stock moves, Mr Chesky aspired to capitalism that had an "infinite time horizon" and was good for society.
THE CEO's
Suppose we consider the scope of a public company, shareholder responsibility, big business, governance and legal then Glen Fogel has a rich heritage of Booking itself, investment background and education. He also has Kayak and Opentable experience through the Booking Group. Brian Chesky has an enviable reputation built off the back of Airbnb and probably has this personal cultural perspective of an excellent and sharing economy (check out the interview process). Still, as we have witnessed, if you swim with the sharks, then you'd better be prepared to be eaten. Many people question the leadership going forward as a future public company CEO. Once that Rubicon has been crossed it's about money, and little else and most people respect Bookings blunt approach and treat it accordingly.
SUMMARY
If Airbnb makes it to an IPO and that is still in question, it has some financial challenges ahead based on marketplace targeting, the same as Booking.com, both with an urban-centric history. Booking.com has a rich business culture and traction with enviable processes. Also, its support and frictionless route to short term stays are to be envied. Booking will no doubt witness crippling hotel figures but like Airbnb have witnessed some upsides on more extended stay accommodation. Both have also focused on vacation rentals, where Airbnb no doubt have the edge on single new unit players. The majority of professionals will have used both channels to some degree but will have throttled availability and pricing.
The current crisis and this throttling in itself should flag up the potential cash and revenue forecast challenges for both companies. Would either consider a fixed fee and performance hybrid approach? This action would be going back ten years, where income was predictable but is an opportunity perhaps? Probably not.
So far, it's an even match. Booking has started to think laterally to market niches and announced its Travel Proud program for LGBT audiences. Both companies have been quoted as favouring the traditional vacation rental markets, but not an easy target where the seasonal business is relatively easy to book direct.
Airbnb is not aligned to Google and wants to rely on brand marketing, but this is ignoring the most potent business delivery mechanism on the planet. Perhaps it's a short term plan to save on capital, already with substantial interest fees? This Skift article is worth a highlight here too. "Booking Holdings Is Holding Its Own Amidst the Wreckage, But Then There's Google"
Then there is the technology and this drives all online businesses. Airbnb admits it's not a tech business, its a cultural icon and we know what happened to the 60's hippies, they became the 80's capitalists. Booking is ahead of the game here.  Airbnb has announced in certain parts of the world that the Guest Service Fees are being removed (e.g Thailand) and a 14-16% commission applied.  This is simply to reduce leakage and will affect all direct marketers and guests as prices rise to accommodate the pain. We have to assume that this will become global to reduce guest leakage, but the guest price will remain the same. The #bookdirect trend, Google Travel and AI creep will reveal the price disparities eventually and then it's a whole new world where the actual controller of the inventory is the winner. 5 Years?
Guest service fees will drive guests to search elsewhere as the recession bites. Booking has none, so conversions will perhaps be better. Airbnb has to remove this booking blocker. The OTA game is to be a booking generator, not necessarily a high margin per booking business. The volume of bookings counts, it's the fuel that feeds the fire. The more customers the more they can be directed to the app and marketed to daily.
IPO and Public company management? If Airbnb hit an IPO, then it's pretty evident anybody in charge of such a business needs a pedigree to match the shareholder needs. To be a fly on the wall of an Airbnb board meeting post-IPO would be a great place to be!
Post-COVID people will return to travel. We all agree it will look different, but hotels will come back on-stream and they too will need to evolve, so Booking has challenges as the mix and data changes. Still, they are already a significant trading body and have clear shareholder resilience. They are also an excellent tech business with a single focus, making money, not changing the world.
Airbnb has a massive distributed collection of properties with virtually no controls in place at the sharp end and is playing with fire, with its owners marking their own cleaning homework. You can bet Booking will have a far more evidenced approach going forward or will not create PR that can come back to haunt them. Airbnb is much better known than Booking in the US, but in Europe, Booking is a dominant hotel force and its users also book vacations on it and with significant app base to ensure increased margins.
The current situation is a bloodbath for all involved, but if I was going to put money on a winner, then it's Booking, certainly outside the US, based purely on rational thinking from a very experienced operation and is technically more advanced and governed. Shareholders seem to agree as Airbnb re-models itself on the Booking successes.
---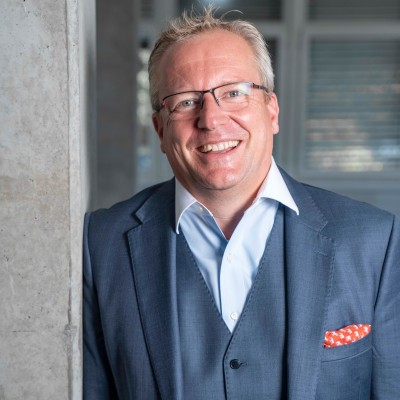 If you want to read one article this month (apart from The Lighthouse of course), then it's this one. It's an interview with Simon Lehman. It's a very in-depth review of the markets the challenges (and the headline situation) and separates the wheat from the chaff.
---
AMAZON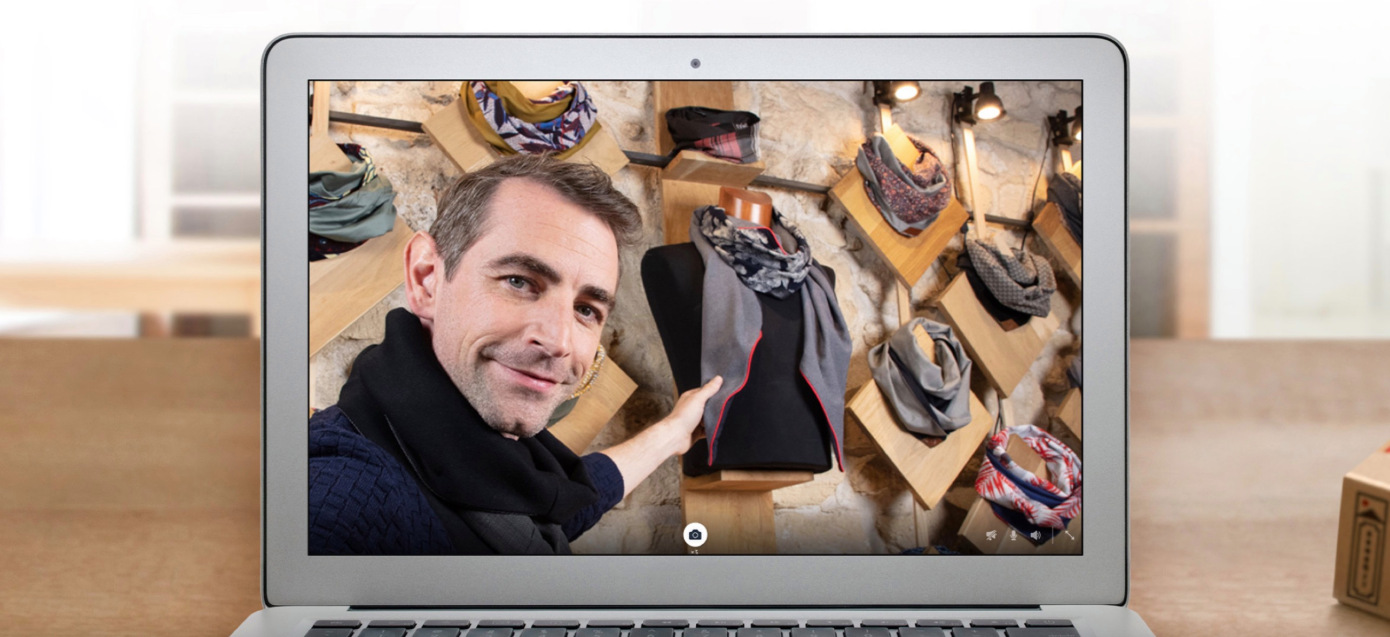 Yes, that's right Amazon is into virtual tours and experiences. If Airbnb struggled then let's see how the e-commerce master handles Amazon Explore. Is this a stepping stone to terrestrial travel again? A flop last time, but in a remarkable trading space.
---
EVENTS
We have all been involved in countless webinars, Zooms, Skypes, Hangouts, Teams, Whereby's and more. Physical events are off the radar at scale and may only resume normal service in 2021. Rentals United have posted a blog that does a summary of forthcoming rental events in Autumn 2020

This last week the Book Direct show took place and what a mammoth affair it was and congratulations to the whole team and in particular Damian and Debbie for pulling it off. Lots of videos to replay and awesome presentations in volume and quality.
I personally recorded a video:- "Revenue Management – If you thought this was just about pricing, think again"
The next big one and a perennial favourite of ours is the Vacation Rental World Summit. A great shame that it's not in Annecy, France this year, as this would have been a wonderful place to hook up together and chew the fat of vacation rentals.
Then the new kids on the block in their second year, again online and supported by Terrapin and with some quality speakers and panels.
---
WORTH WATCHING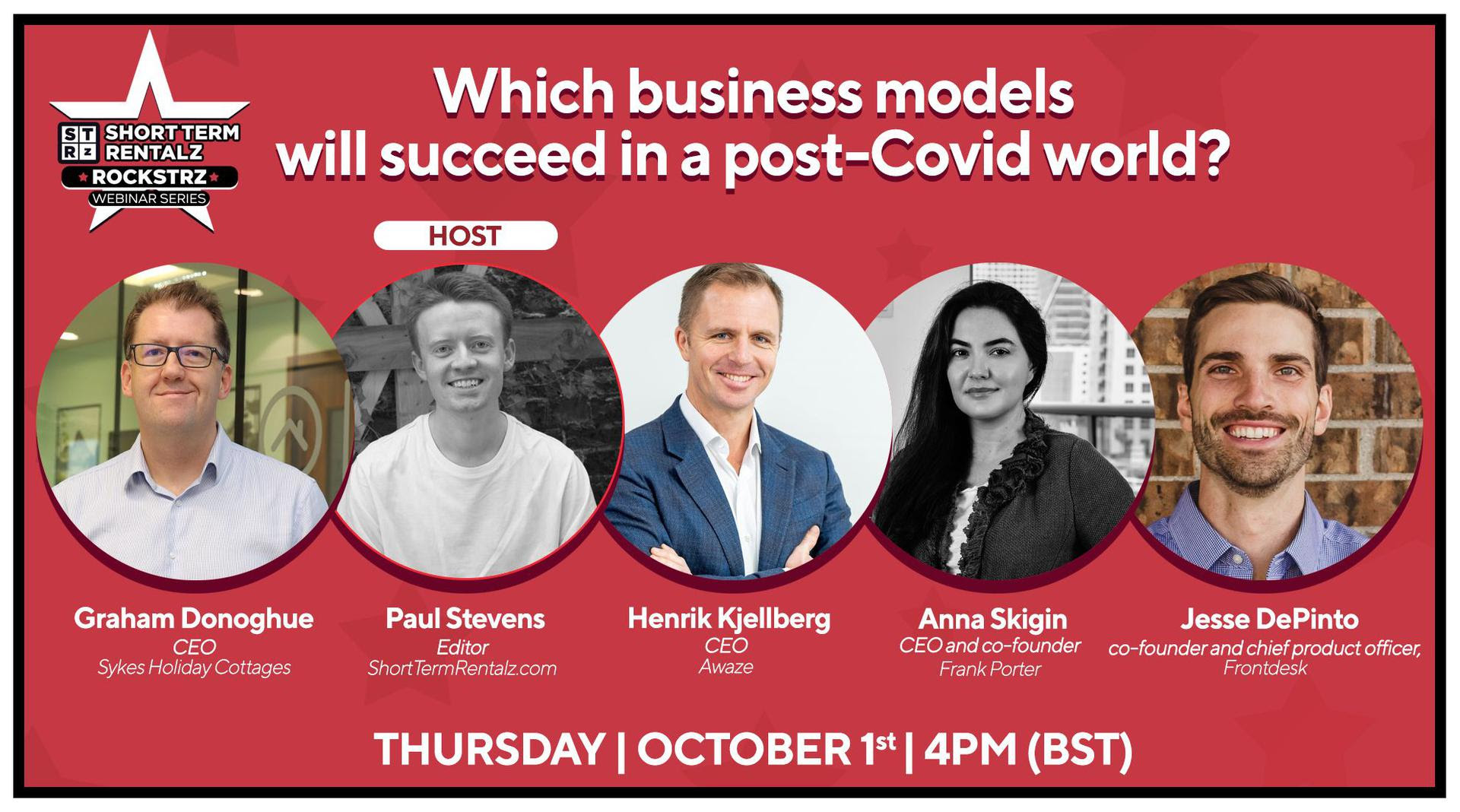 Pretty sure we are all "Webinar Weary, Zoom Zonked or Team Troubled".  But some are worth watching as they have scaled experience. The RockSTRz Webinar this week have been well worth watching.
The volume of bookings, the effect of COVID on NPS and re-imagining the business in 2021 should help smaller businesses carve a strategy on an impending recession where no-one leaves the country! This is last Tuesday's replayed.
---
For our UK readers:
FREE WEBINAR TO HELP SELF-CATERING NAVIGATE RESTRICTIONS – PASC UK is joining forces with the ASSC (Association of Scotland's Self-Caterer's) to hold a webinar to help us all navigate the difficult circumstances that we find ourselves in. This webinar is hosted and sponsored by SuperControl. Titled "Adapt on a sixpence – strategy and marketing tactics to get more bookings" – The Webinar will take place on Tuesday 13 October 10:30 – 11.30. There is no charge for this webinar. This is the link to register:
There will be a panel who will be answering questions from the audience. The way that this will work, as we are likely to have hundreds of participants on the webinar, is to send your questions into [email protected]. This way we can both make sure that we answer the most common questions in the webinar, and can publish in advance what the questions are so that you can see if any are missing. Please do send in your questions by email. The Panellists will be announced on Facebook on Monday at https://www.facebook.com/pascukltd
---
---
DATA USE
This week the booking journey. 
We are great fans of "Think with Google" and with so much focus on the booking journey right now, on how to close quickly, get more direct booking traction, then it has never been more important than now to worry about the booking journey. This is a brief summary of the article in reference to vacation rentals from how people decide to buy. The entire 98-page report can also be downloaded here.
With the help of behavioural science experts, the team started to decoding how consumers decide what to buy. From literary reviews, shopping observation studies, search trend analyses, and experiments.  Consumers decision making processes in as they say "an online environment of abundant choice and limitless information".
The net result was that people deal with scale and complexity by using cognitive biases encoded deep into human psychology. No surprise there except this was around in caveman days! It all boils down to 6 elements: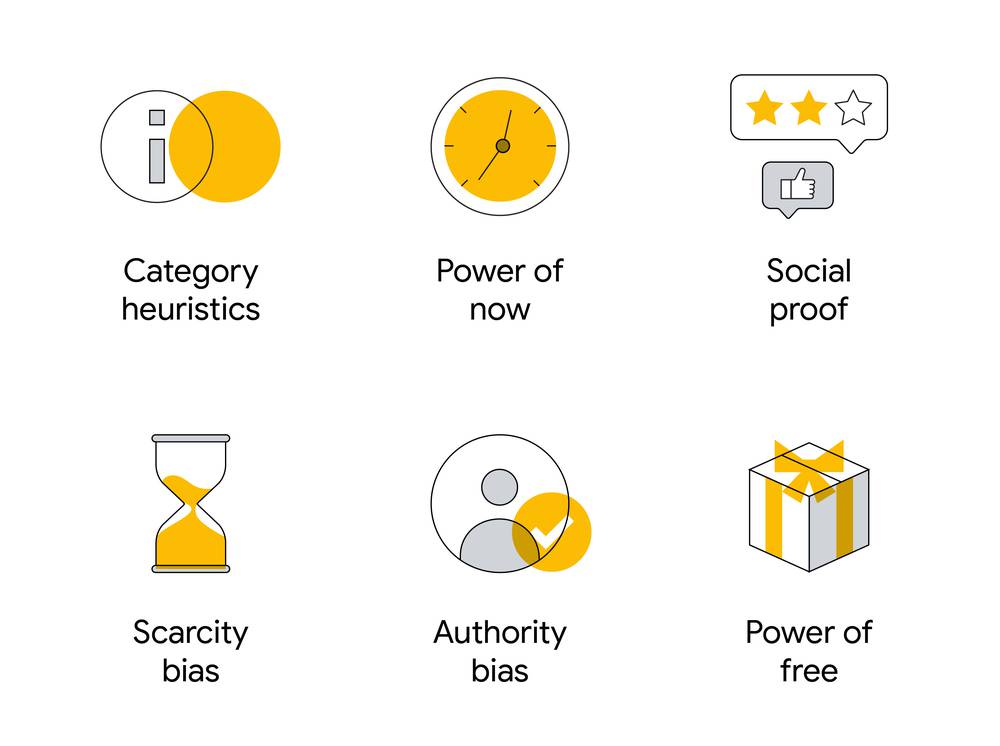 Category heuristics: Short descriptions of key product specifications can simplify purchase decisions.
Think key points, highlights such as "lighting fast internet connection" or "Wake up to an Ocean View".
Power of now: The longer you have to wait for a product, the weaker the proposition becomes.
This is Google on point push right now. Your website and booking flow need to be frictionless.
Social proof: Recommendations and reviews from others can be very persuasive.
As if we didn't need telling right now. Reviews are crucial. Controlling these is critical.
Scarcity bias: As stock or availability of a product decreases, the more desirable it becomes.
Make your property different, if yours has nothing special compared to the rest around you then consider how to elevate your property. Extra media or maybe that super barbecue.
Authority bias: Being swayed by an expert or trusted source.
This comes back to reviews and word of mouth but also press. Work hard to get your name out there and ensure that your business has Trust as a core tenet in the process.
Power of free: A free gift with a purchase, even if unrelated, can be a powerful motivator.
Everyone loves a free gift or to be made to feel special, so motivate and convert.
You may have noticed from the research report above that the real reason people were choosing and Airbnb was price vs space! Build on that and add quality, references, trust, frictionless experience and you are a winner!
For you intellectuals who like reading McKinsey and Co, this article "elevating customer experience in the next normal is also for you."

TIPS & TRICK(S)
USEFUL TOOLS
This Chrome plugin is an interesting tool. It's called "Trusted News" and is an Artificial Intelligence browser extension that helps you evaluate what you're about to read online, even before you've read it. It can help you know what to trust and what to watch for. It is trained on sentence-level using a rich set of features including opinion bearing phrases (phrases authors use to reflect their thoughts, beliefs and attitudes) and other semantic markers.
NOTE: The Lighthouse Newsletter also has opinions and conjecture, but we are pretty happy that newsletters to date have been way over 60%, so a lot of objectivity associated with opinion.
GENDER FOCUS? Targeting men or women, perhaps? There are stark differences in attitude. Maybe think this through at property end and in marketing messages!
HYGIENE: Getting confused and want to know how the OTAs are fighting their own battles and conferring advice on hosts then head over to RentalScaleup, one of our favourite sites.
FIND MY AUDIENCE:  Find out who is watching what on Youtube and target your audience. This is well worth browsing and amazing which high traffic and personality Youtube streams and recordings are watched. Under "destinations" the Global Cycling Network has 2.39m subscribers! Any renters on cycle trails?
---
INVESTMENTS & ACQUISITIONS
---
This month even in a COVID crisis, we see some investments. We all know that more automation is being impressed upon the sector and services and niches are being added to simplify and ease the friction encountered in hospitality. This month we have witnessed investment in several quarters that will allow growth post COVID.
Pass the Keys raised £1m on Seedrs a Crowdfunding platform: The new investment will primarily be used to accelerate the growth of Pass the Keys' franchise programme, having taken on 12 new partners since the outbreak of the coronavirus earlier this year. The company is currently operational in 27 cities across the UK and plans to bring on another 15 franchisees by the end of the year.
Dormoa, an Italian language specialist portfolio business raised privately. With an ultimate aim to open in every European city by 2022, Dormoa is seeking to become the first-holiday rentals site for Italian travellers, offering its users a range of select vacation rental accommodation that is tailored to the specific needs of the market.
Natural Retreats announced its acquisition of Florida-based 360 Blue, doubling its inventory to 1,500 vacation home rentals across 17 destinations.
BookingKit which provides software to tours-and-activity operators raised an undisclosed round of funding. The Deutsche Startups podcast said the investment was about $6 million (€5 million).
Holidu, a vacation rental "search engine" dwarfed all other single companies with a EU40m raise. What can we say, more money for Google!
Venture Firm Howzat Is Raising $120 Million to Find the Next Trivago or Airbnb. Anyone who knows Howzat will have identified their hospitality heritage which includes vacation rentals. Check out their portfolio and you'll see the range.
Grass Roots Investments: It's not just big investment either, we are also witnessing grassroots investment in vacation rentals accelerated by COVID.
---
OUR NETWORK – More new members
We are pleased to announce two more and very experienced members to our Network as we build a collective of experts and advisors for all these specific industry requirements.
To the left of the photo below is Pierre Hubisz, of Bonjour Consulting who is a multilingual business dev and distribution expert with a rich heritage at Veeve and small luxury hotels. To the right is Alistair Handyside (MBE) of PASCUK a real veteran of the UK industry and an industrial level campaigner for rental rights with a rich history of key hospitality organisations. Also runs his own excellent vacation rental business!
All network members are independent, and all contact is direct to their clients. We ALL work together, collaborate and share information to the benefit of all. You can read more about how we work and our ethos on this link.

---
NEXT MONTH ON THE "BIG BUSINESS" SECTION IT'S YOUR CHOICE
If you want us to dive deeper into something particular just leave a message below or select one of the options (1 or 2) and enter it below.
Real estate: How the two are combining
Marketplaces/Webs: Trends and technology
---
---
Please feel free to leave a comment, ideas, advice, suggestions etc
---
Disclaimer: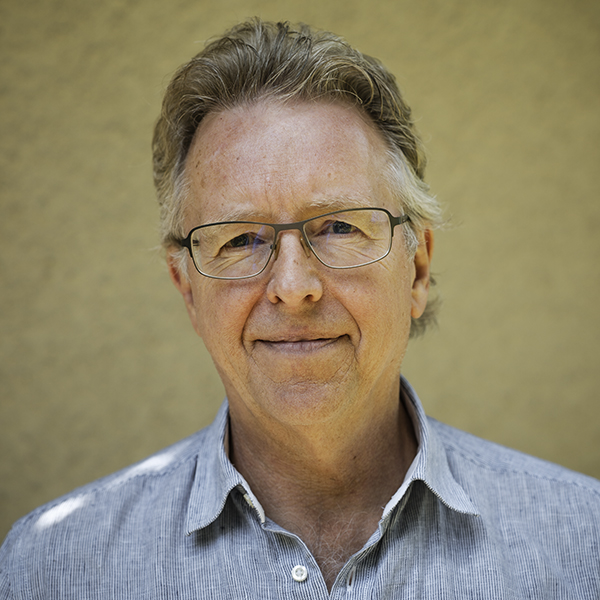 No company has paid us to write or list any links, products, or references! Richard Vaughton, The Editor is a director of Yes Consulting and Rentivo Group Ltd