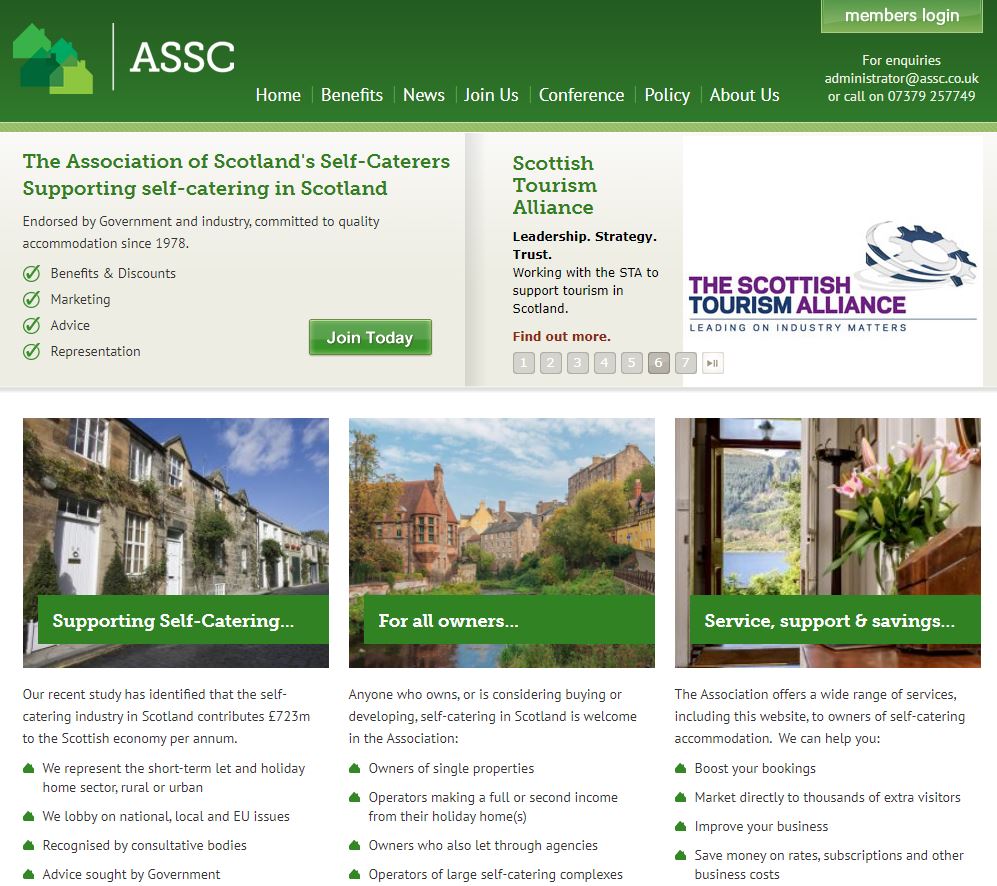 Founded in 1978, the Association of Scotland's Self-Caterers (ASSC) is the leading source of knowledge on short-term letting and holiday homes in Scotland. The ASSC is the only trade body representing the interests of the traditional self-catering sector. It has more than 650 Members, operating in excess of 7,000 self-catering properties throughout Scotland, from city centre apartments, to rural cottages, to lodges and chalets, to castles. The ASSC commits its members to maintaining the principles of "quality, integrity, cleanliness, comfort, courtesy and efficiency" and to offering visitors to Scotland consistently high standards within their self-catering properties.
The ASSC has close links with other European countries, as founding members of the European Holiday Homes Association (EHHA). It is also a member of the Scottish Tourism Alliance Council. The Association works closely with local authorities and Scottish Government to support the self-catering and short-term let sector and has recently produced a Code of Conduct for members.
In October 2016, ASSC incorporated and ASSC Ltd is now a consortium co-operative limited by guarantee. ASSC Ltd is run by and for owners and operators and is still funded entirely by annual subscriptions and services to members, supported by our Partners for Business. The ASSC is a not for profit organisation with our vision to place our members at the forefront of a professional, vibrant and prosperous Scottish self-catering sector.
The ASSC does not run a booking agency, but helps to market members' properties via a visitor facing website, EmbraceScotland and various social media platforms including Facebook, Twitter and Instagram. Visitors deal directly with ASSC members, benefitting from the personal touch and direct booking discounts. Our guests will enjoy an authentic experience of the real Scotland, its local people, events, landscape and food. No commission is taken.
---
CONTACT